by Kayla Garritano | January 20, 2023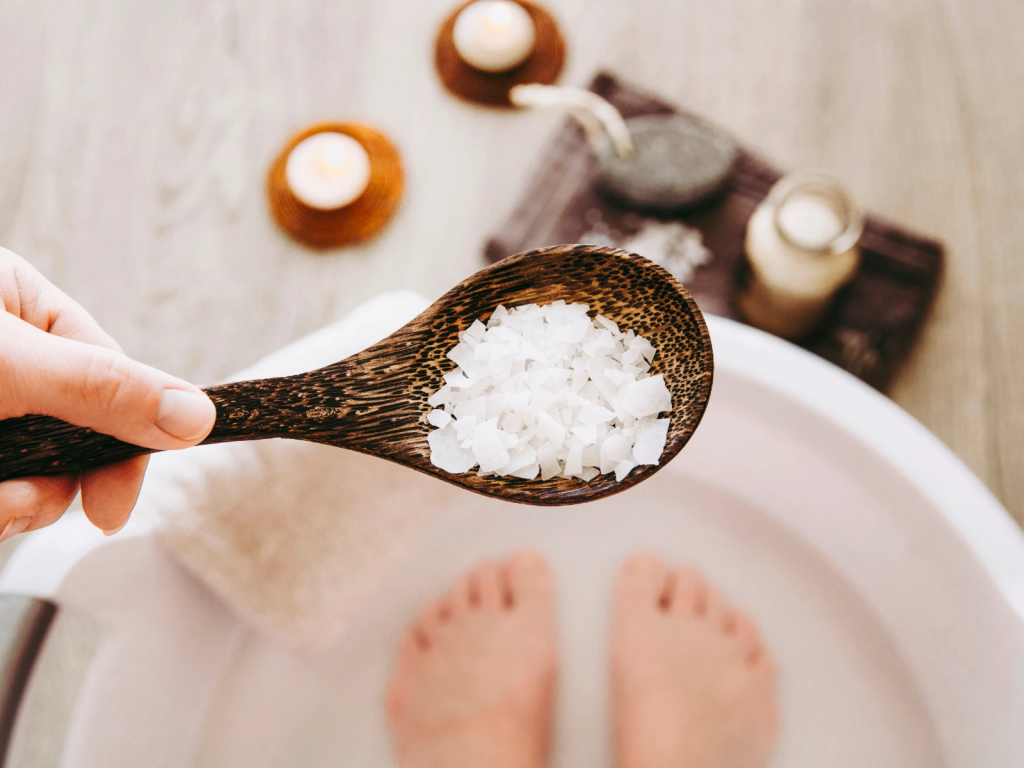 Magnesium flakes have taken on the world by storm as of late. But while you might have heard about it in passing, what do you really know about the product?
Generally speaking, magnesium may boast some benefits like supporting muscle and nerve function as well as energy production, which is why there are benefits to eating magnesium-rich foods. Furthermore, a magnesium deficiency can cause health issues like risking high blood pressure, heart disease, and type 2 diabetes. While it's important to get the proper amount of magnesium, it turns out you don't need to take the oral route to get the nutrients you need.
That's where magnesium flakes come in. We spoke with Dr. David Berger, MD (aka, "Dr. David") to learn more about what magnesium flakes are and what they can do to your body.
What are magnesium flakes?
According to Dr. David, magnesium flakes are a concentrated form of magnesium chloride, but it's not to be confused with Epsom salts.
"Though a salt, it differs from Epsom salt, which is magnesium sulfate," explains Dr. David. "Both magnesium chloride and magnesium sulfate can be dissolved in bath water, which allows the magnesium to enter the body through the skin."
However, Dr. David states that one of the advantages of magnesium sulfate over magnesium chloride is that it contains sulfate (i.e. "the non-magnesium part").
"Sulfate is essential in the production of reduced glutathione, which is one of the most important antioxidants, detoxifiers, and controllers of inflammation in the body," says Dr. David. "This is why in my medical practice I more often suggest Epsom salt baths for treatment purposes. Magnesium is also a stool softer, and if too much is taken orally, it will likely result in diarrhea. This does not happen when magnesium is absorbed through the skin."
The benefits of magnesium flakes
Move over Epsom salts, because magnesium flakes are the new bath bomb.
"Magnesium has calming properties," says Dr. David. "I have seen it improve sleep, lower blood pressure, decrease anxiety, decrease tics, and calm hyperactive children."
So whether you're taking a bath before bed or having a much-needed spa day, magnesium might be the solution thanks to transdermal magnesium absorption.
Transdermal magnesium absorption, the intake through the skin, is a great way to boost your levels. As reported by a 2017 pilot study published in the journal PLOS One, a low dose of magnesium cream — another form of external magnesium application — showed a larger percentage change in both serum and urinary markers from pre to post-intervention, improving a person's magnesium status.
Applying this mineral topically has also helped to improve overall health. Ever heard of the Dead Sea, the salt lake bordering Jordan and Israel? It's also known as the "Salt Sea" thanks to its high amount of minerals. The mineral content of the Dead Sea is significantly different from that of ocean water, made up of approximately 53% magnesium chloride.
According to a 2019 study published in the journal Experimental Dermatology, it was determined that applying Dead Sea water to the skin has helped reduce inflammatory and irritation-related cytokines; small proteins that are crucial in controlling the growth and activity of other immune system cells and blood cells. Dead sea water has also increased β-endorphin skin secretion — neuropeptides involved in pain management.
How to use magnesium flakes
Whether you're bathing in Epsom salt or magnesium flakes for therapeutic purposes, Dr. David stresses that it is optimal to use hot water, at or above body temperature. The reason is that heated water mixed with these salts opens the pores and capillaries of the skin. Therefore, allowing the magnesium to be better absorbed.
But when deciding on which mineral to choose, Dr. Berger suggests that magnesium flakes are promoted as being better absorbed than Epsom salts.
"It is safe to soak in either magnesium flakes or Epsom salts," states Dr. David. "I recommend trying each to determine which feels better. The typical dose is two cups of the product in water around 100 to 104 degrees Fahrenheit for those ages 10 and older, and 100.4 degrees Fahrenheit or less for younger children. Soak time should be about 10 minutes."