By Shauna Muckle | Times staff | Published June 06,2023 |
St. Pete 420 boldly sells high-THC products with no medical card required. How does the Florida shop get away with it?
St. Pete 420 isn't shy with its advertising. "No medical card needed" is posted outside each location inlarge letters. A retail clerk, known as a "budtender," greets customers inside by asking: "How can I get you high today?"
An aroma indistinguishable from that of marijuana wafts through the shop. "High potency" edible gummies line the shelves with flavors like blue raspberry and names like "amnesia."
At first blush, St. Pete 420′s business model seems to flout Florida law. Here, patients who see a licensed physician can access prescribed doses of medical marijuana. But recreational marijuana is illegal.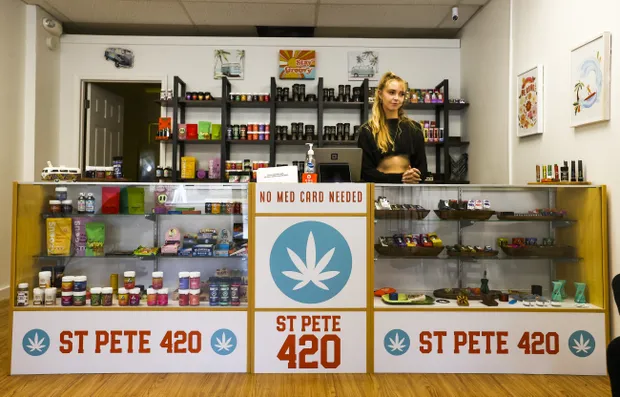 So how does St. Pete 420 get away with it? The answer lies in a product that's exploding in popularity.
Delta-8 tetrahydrocannabinol — delta-8 THC for short — is a cannabinoid derived from hemp plants, not marijuana plants. Hemp products are mostly legal at the federal level, while marijuana products remain a federally prohibited substance.
Hemp plants still produce small amounts of the psychoactive ingredient that produces the "high" attributed to marijuana: THC. And in Florida, there are no limits on how much delta-8, or most other hemp-derived cannabinoids, can be packed into products.
St. Pete 420, which launched in August and quickly grew to four shops, goes beyond delta-8. The company sells a full menu of vape cartridges, edibles and flower — the small nuggets of cannabis that people grind and smoke in joints, bowls or bongs.
They're all derived from hemp.
"I would say (for) 85-90% of people who come in the door for the very first time, their first question is, 'Is this real?' or 'How is this legal?'" owner Micky Morrison said.
Hemp growers in other states, from New York to Wyoming, Arizona and California, have gotten more advanced with the products they package and ship to states like Florida, Morrison said.
"Thirty years ago, they had identified 20 cannabinoids and one THC," she said. "Now we know 20 THCs and over 120 cannabinoids that all have different properties and effects. Many of them are psychoactive."
Morrison said she has assembled a legal team to ensure that her company complies with state and federal law as it mixes and matches technically legal ingredients.
St. Pete 420 is far from the only Tampa Bay hemp business taking advantage of delta-8. Chillum Mushroom and Hemp Dispensary, Jones Genetics CBD Dispensary and the Hemp Spot are Tampa outlets that sell a menu of delta-8 products and other psychoactive cannabinoids.
A report this year from Whitney Economics revealed that Florida has issued more than 9,500 permits to hemp retailers, from gas stations to smoke and vape shops to grocery stores and dispensaries along US Highway 19. Florida has 351 hemp distributors — and they each earn, on average, nearly $5 million annually from products containing cannabinoids like delta-8.
How a federal law provides loopholes
Hemp producers and sellers in tightly regulated states like Florida have gotten bold since the passage of the 2018 Farm Bill, a national law that legalized most hemp-derived products. Tampa Bay is now home to many shops — more than 1,500 permits have been issued in Pinellas, Pasco and Hillsborough counties — that look like recreational dispensaries and sell hemp-based products with a psychoactive effect similar to that of marijuana. Whitney Economics valued Florida's hemp-based cannabis industry at more than $10 billion this year.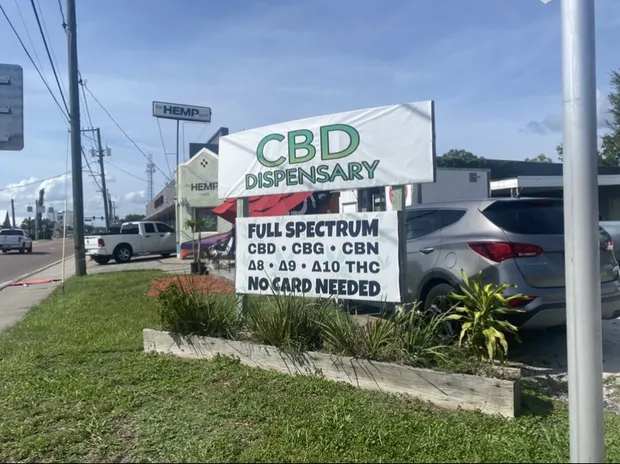 Another consequence of the Farm Bill: Recreational products can include the specific type of THC that comes from marijuana plants, provided two conditions are met. The delta-9 THC must come from a hemp plant and must constitute less than 0.3% of the product by weight.
That means St. Pete 420 and other shops, like Chillum and the Hemp Spot, can sell gummies containing the same ingredient as edible marijuana. If the gummies are big enough, they can pack in more delta-9 THC while still meeting federal weight requirements.
Florida law imposes certain regulations on the hemp industry, particularly on growing and packaging hemp products. But unlike a handful of states that have outlawed delta-8, Florida hasn't imposed such restrictions on a growing list of alternative cannabinoids.
St. Petersburg residents have likely passed one of Morrison's stores. They're along prominent streets: 75th Avenue in St. Pete Beach. Central and Fifth avenues in St. Petersburg. The newest one opened in June on Dr. Martin Luther King Jr. Street near the Greater Woodlawn neighborhood.
Rev Shelton, who described himself as a regular at the Central Avenue location "since Day 1," said he stops by the shop nearly every day and buys new products when he has extra cash. Shelton suffers from chronic pain.
"A lot of times I don't think I would even be able to get out of the bed some mornings (without these products)," he said. "And I know people look at it and say, 'Well, he's self-medicating.' No, I'm not self medicating. Because self-medicating is taking something that you know you don't need."
Medicinal providers have doubts
Licensed medical marijuana sellers, which include local farms and companies approved by the Florida Department of Health, are skeptical. Florida has a short list of medical sellers because so few companies have the wherewithal to comply with the state's requirement that they must grow, process, market and sell the product with no middlemen or contractors.
David Berger, a physician and owner of the medical marijuana clinic Wholistic ReLeaf, said he's concerned that the products aren't subject to the same level of regulation as medical products, which undergo rigorous testing for THC content and other impurities.
"There's very much a 'buyer beware' for any of those smoke shop types of things," he said.
Morrison, however, said there's a QR code affixed to all containers in her shops. Florida law requires that recreational hemp products have those labels, which confirm third-party lab testing that includes the product's percentages of CBD, THC and other cannabinoids, as well as confirmation that it passed tests for heavy metals, pesticides and more toxins.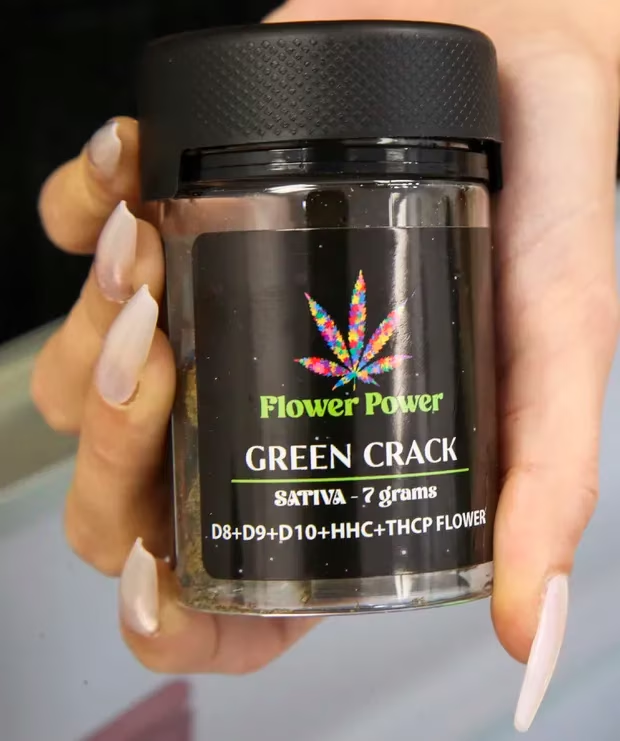 Berger had other complaints: Medical marijuana dispensaries and doctors are more equipped to educate patients on which products to use for certain conditions, he said.
"We give them information about the terpenes and cannabinoids and how to properly titrate doses up with different things," he said. But, Berger added, "none of that is required by the law."
Indeed, requirements in the medical marijuana space have loosened. Practitioners now need only two hours — not six — of training to become qualified to distribute medical cards. And diagnoses like anxiety and depression, which aren't among the nine conditions outlined under Florida law, are increasingly what physicians use to grant cards, Berger said.
Barriers to medical marijuana cards persist
St. Petersburg's Local Heroes Event Center was outfitted with tables draped in green tablecloths last month. Green Source FL, a medical marijuana clinic, hosted free appointments on one side of the 2,000-square-foot space, and Surterra Wellness sold products on the other side.
Minorities 4 Medical Marijuana is an advocacy group that calls attention to the barriers people of color face in accessing medical marijuana cards, particularly if they come from low-income backgrounds. Over the next few months, the organization will host three more "safe access" events around the state that provide free physician consultations and only charge patients the state-required $77.50 to access a card.
DJ Howard, who directs the program, said medical marijuana cards can cost hundreds of dollars when factoring in the price of a doctor visit. It's a prohibitive expense for low-income communities, he said.
Compared to recreational workarounds, a medical card can help combat suspicion from law enforcement, Howard said.
"If you do get pulled over, and you have medical products and medical containers, you can't really get in trouble," Howard said. "If it's not in a medical container, you're opening yourself up to more issues."
Shelton said he's tried to get a medical card in the past. But he hasn't been able to afford the fees all at once, which is why he keeps coming back to St. Pete 420.
A 2021 research report published in the journal Medical Cannabis and Cannabinoids by Florida Gulf Coast University researchers revealed that 83% of medical marijuana cardholders in Florida are white. Less than 2% are Black, and less than 8% are Hispanic.
State of play on Florida's marijuana laws
Florida lawmakers filed bills placing limits on delta-8 in their most recent legislative session. But that language was stripped from what eventually became law this month. It's now more narrowly focused on packaging requirements. It also imposed a 21-year age requirement for delta-8 and similar hemp-based cannabis products.
Medical marijuana and hemp businesses alike have been pushing to legalize marijuana for recreational use. While two ballot proposals were floated in 2021, legalization efforts were struck down twice by Florida's Supreme Court.
The latest push to include a marijuana measure on the 2024 ballot already has moved to the state Supreme Court. Last week, the state attorney general formally asked the court to reject the proposed ballot amendment.
"The laws can change in any direction at any moment," Morrison said. "It's kind of a risky business. I'm signing leases on opening stores, and we don't know what's going to happen."
https://www.tampabay.com/news/business/2023/07/06/st-petersburgs-420-shop-promises-get-you-high-is-it-legal/