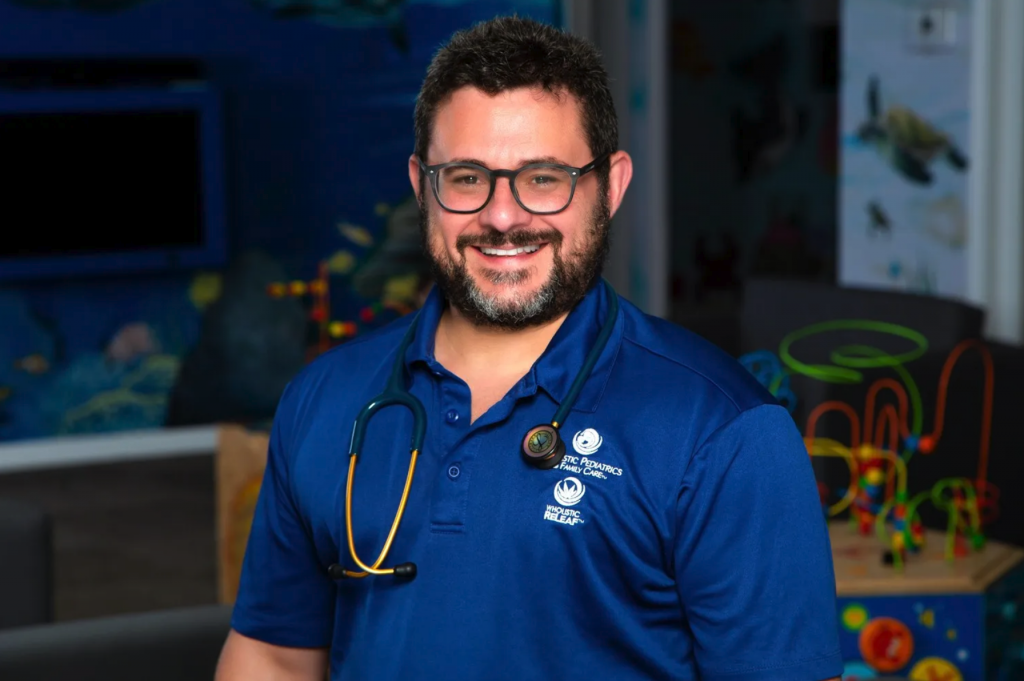 Tampa, Fla. – Dr. David Berger ("Dr. David"), owner ofWholistic Pediatrics & Family Care and Wholistic ReLeaf, launches DrDavidMD, a new media company focused on health, education and choice. DrDavidMD provides research-based health education that empowers people to make the best possible medical choices for themselves and their loved ones.
Dr. David emphasizes an individualized approach to medicine that recognizes the uniqueness of each person's needs, life circumstances and health history. He also understands medical choices are not simply "black and white," that a grey area exists with almost every decision, and people must be informed to weigh the risks and benefits of their particular situations. Through DrDavidMD, Dr. David is now able to help people on a greater scale gain the knowledge they need to make informed decisions about their healthcare.
Visitors to the DrDavidMD.com website will find helpful educational content in the form of his Your Health Your Choice video series, media appearances, public speaking events, webinars, individual consultations, professional trainings and more.
"So many patients tell me they wish I could treat people they know who live far away. Creating a web-based media and educational company allows me to more broadly share my unique medical approach with a wider audience. It enables me to reach people regardless of their geographic or economic situation," Dr. David says.
A board-certified pediatrician with more than 25 years of clinician experience, Dr. David has gained a national reputation for his expertise in holistic pediatric primary care, with specialties in the areas of nutritional and detoxification therapies for autism, ADHD, and related disorders; and immune dysregulation such as allergies, asthma, and autoimmune disorders. Dr. David also treats adults with these medical conditions. Additionally, Dr. David offers preconception and prenatal counseling, testing and treatment to optimize the health of both women and infants.
Dr. David graduated from The Medical College of Pennsylvania before completing his Pediatric Residency at the University of South Florida (USF)/Tampa General Hospital, where he began use of holistic therapies. He has been in private practice since 1997 and is an advanced practitioner of biomedical therapies, advocating for the Autism Research Institute philosophy since 1999. In 2005, Dr. David opened Wholistic Pediatrics & Family Care, his medical practice in Tampa. In 2010, he was appointed assistant professor at the USF College of Nursing. Two years later, he helped develop and lead the Preconception to Infancy (P2i) Portland Think Tank, from which the international P2i initiative was developed.
In 2016, Dr. David launched his Wholistic ReLeaf clinic to help qualified Florida patients use medical cannabis as a treatment option. Today, he is one of only a few pediatricians in the state qualified to evaluate and certify medical marijuana for patients under the age of 18.
As the world began coping with the COVID-19 pandemic, Dr. David was invited three times to share his expertise with the FDA vaccine approval committee as they considered the Emergency Use Authorization applications for COVID-19 vaccines. He is also an assistant professor at the USF College of Nursing.
Dr. David is a sought-after medical expert and speaker, skilled at demystifying complex medical ideas into understandable, practical applications for professionals and nonprofessionals alike. His inspirational and relatable style draws in audiences and engages them in a meaningful way.
Dr. David is involved in public campaigns that influence policymakers, including the FDA and state legislatures. He also worked with multiple schools to help develop their COVID guidelines.
"I've always been a strong advocate for my patients," Dr. David says. "Through my new media and education company, I can serve as an advocate for the broader community."  
https://www.dailyadvent.com/news/35b0e176a68a5e6e8901a9eaf9dae38c-New-Media-and-Health-Education-Company-DrDavidMD