By Heidi Borst | Contributor | Updated: Apr 26, 2023, 5:34 am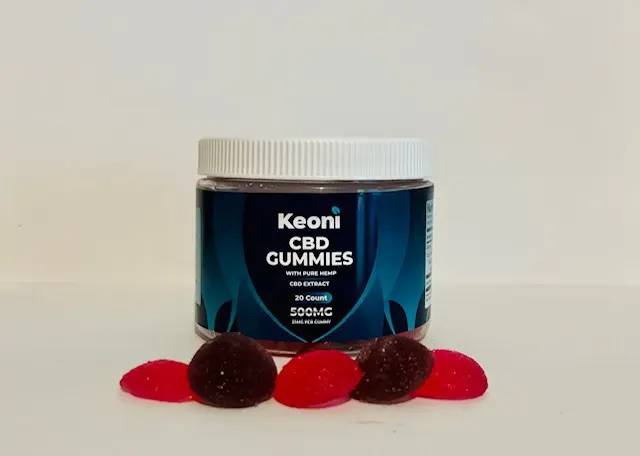 Our Verdict
Keoni CBD gummies are made with 100% organically grown, domestically-sourced hemp. Although the product label says the gummies are "full spectrum," the contents of the product itself seems to be more in-line with the industry description of a broad-spectrum CBD product (meaning it goes through an additional process to remove THC). If you're taking any prescription medications or dietary supplements, be sure to consult with your health care provider before trying Keoni CBD Gummies or any other product containing CBD.
Key Features
Third-party laboratory tested for quality and potency, with certificates of analysis (COAs) easily accessible on the product website
Made with 100% organically-grown hemp, according to the company
Each gummy contains 25 milligrams of full-spectrum CBD, according to the product label (although the website says each gummy contains 20 milligrams of CBD).
Keoni CBD is a company operating under Wellness Brands, LLC, that offers a variety of CBD products, including gummies, capsules and oils. According to the Keoni website, small-town values are the heart of the business, which strives to provide exceptional customer service and quality products.
| PROS | CONS |
| --- | --- |
| Sourced from the U.S.Third-party tested for quality and potencyTHC-free, according to the product's COA on the Keoni websiteSolvent-freeCruelty-free | Strong hemp flavor may not be appealing to some consumersMay cause side effects, including dry mouth, drowsiness, gastrointestinal upset or lightheadednessShould not be taken with certain medications or supplements (check with a health care provider first) |
Keoni CBD Gummies at a Glance
Cost: A container of 20 Keoni CBD gummies costs $54.99, and a subscribe-and-save option with delivery every 30 days costs $44.99. A 10% discount is available on the website for first-time customers who agree to receive email marketing from Keoni.
Potency: Per the product label, one Keoni CBD gummy contains 25 milligrams of full-spectrum hemp extract (a total of 500 milligrams of CBD per container).
Quality: Made from organic, domestically sourced hemp, Keoni's full-spectrum CBD gummies are third-party tested to ensure potency and quality. COAs are available on the website for full transparency. These CBD gummies also contain a non-psychoactive cannabinoid called cannabigerol (CBG) in addition to CBD.
How Do Keoni CBD Gummies Work?
Keoni CBD Gummies claim to feature full-spectrum CBD, which means they also contain other cannabinoids, terpenes and flavonoids present in the hemp plant. Because Keoni's CBD blend is extracted directly from the hemp plant and further isolated and tested to ensure it doesn't contain THC, it actually seems to be a broad-spectrum blend per industry standards.
The human body naturally produces compounds called endocannabinoids, which are very similar to the cannabinoids found in the hemp plant, says Bridget Williams, M.D., a board-certified family physician and the CEO at Green Harvest Health in Pickerington, Ohio. Such compounds help achieve homeostasis in the body, playing a role in a variety of functions, such as sleep, mood, appetite, memory and fertility, says Dr. Williams.
Over time, genetics, stress and lifestyle choices can cause us to become deficient in these compounds, leading to what some researchers are calling endocannabinoid deficiency disorder, according to a theory introduced by Ethan Russo M.D., director of research and development at the International Cannabis and Cannabinoids Institute[1]. Symptoms like anxiety and insomnia may indicate an unbalanced endocannabinoid system, says Dr. Williams.
"CBD can help restore our endocannabinoids, repair receptors and thus help restore balance via the endocannabinoid system," says Dr. Williams. In fact, research suggests CBD can improve anxiety and depression, pain and inflammation, and other medical conditions, including arthritis, multiple sclerosis and epilepsy[2].
"I don't usually use CBD as part of a general wellness routine for happy, healthy people because I assume they have properly functioning endocannabinoid systems," says David Berger, M.D., a board-certified pediatrician at Wholistic Pediatrics and Family Care in Tampa, Florida. However, he says he utilizes CBD frequently with patients who have mental and behavioral health issues, seizures, movement disorders and hyper-inflammatory and autoimmune conditions.
How Much Do Keoni CBD Gummies Cost?
One bottle of 20 gummies containing a total of 500 milligrams of CBD (25 milligrams per gummy) costs $54.99 ($44.99 with the subscribe-and-save option), and a bottle of 40 gummies containing a total of 1,000 milligrams of CBD (25 milligrams per gummy) costs $64.99 ($54.99 with the subscribe-and-save option). CBD gummies with additional ingredients to support sleep and energy are also available on the Keoni website.
In addition to CBD gummies, Keoni sells a variety of CBD oils, capsules, topical creams, gels, roll-ons and sprays, including bundled items. All products are available at a discount when you choose the subscribe-and-save option for monthly delivery (discounts vary by product).
The Fine Print
To use Keoni's products, you must be over the age of 18, and the company recommends incorporating CBD into a wellness routine consisting of regular exercise, balanced nutrition and self-care.
Results may vary based on your age, overall health and family history, and you should seek the advice of a health care provider before using any supplement, including Keoni CBD gummies, according to the company website.
While Keoni claims simplicity is one of its values, its website presents some conflicting information. For example, it discusses the differences between broad-spectrum CBD, full-spectrum CBD, CBD isolate and CBD distillate, but it's unclear how THC has been removed from its full-spectrum CBD gummies (full-spectrum hemp usually contains trace amounts of THC not exceeding federal regulations of .3% by dry weight). Furthermore, there's very little information available about the company itself, including where the products are manufactured and who owns and runs the company and its operations.
What Experts Say
Gummies are a great option for using CBD due to their ease of use, says Dr. Williams. Gummies usually taste great, travel well, can be cut easily to adjust the dose and are discreet and convenient, she says. "Because the half-life for CBD gummies is longer than inhalation or [oil] drops, they can better address sleep issues, generalized anxiety issues and chronic pain than [delivery methods] that are eliminated from the body faster," says Dr. Williams.
"Being a CBD specialist who provides doctor approvals for products, I look for CBD options that have excellent third-party tested COAs" says Dr. Williams. Testing is crucial, along with evenly distributed cannabinoids throughout the gummy (versus being sprayed on top), she says, adding that Keoni appears to be a brand that works hard to create a high-quality CBD product in a competitive and unregulated market.
However, Dr. Berger points out that the COAs on Keoni's website are more than a year old, which could be problematic. "In my practice, I only recommend products from companies that test each batch for impurities and labeling accuracy and who willingly make these results publicly available," he says.
Because Keoni CBD is a retail company that anyone can access, there's no oversight when it comes to who's taking the supplements, with what medications and at what dose, says Erica Steele, a naturopathic doctor at Holistic Family Practice in Virginia Beach, Virginia.
"I always pause with [direct-to-consumer brands] simply because they can be harmful for people with various biochemical challenges—for example, those who suffer from depression, are neurodivergent or are currently on psychotropic medications that may interact with CBD," says Dr. Steele.
That said, there aren't fillers included in the Keoni CBD gummy ingredient list, and they contain a relatively low dose of CBD, says Dr. Steele. "I would not recommend it as a therapeutic product, but more so a preventative one—as long as there's oversight from a qualified health care provider," she says.
The Experience
I experienced a mild relaxing effect from taking Keoni CBD Gummies. I noticed about 45 minutes after consuming a gummy that I was more mindful than usual as I prepared dinner for the evening. Rather than rushing through the task, I felt more present—most likely a result of reduced anxiety.
I also slept soundly that night, with no residual grogginess the next day.
The instructions on the container say to take one gummy with a meal. I observed that taking them during the workday made me feel less productive, so I decided to stick with evening use. Overall, I found the gummies to be a good way to unwind and promote an enhanced state of calm at the end of a busy day.
Out of 104 Trustpilot reviews, Keoni CBD received an average rating of 3.2 out of five stars. One self-described light sleeper said the gummies were effectively sleep-promoting. Less-satisfied customers complained about customer service and issues with shipping and refunds.
Is Keoni CBD Legitimate?
Keoni CBD is not accredited by the Better Business Bureau and has an F rating, with an average customer rating of two out of five stars. Most complaints were due to issues regarding canceling subscriptions and obtaining product refunds.
Forbes Health covers CBD and cannabis products in accordance with FTC guidelines. Learn more about Forbes Health's practices and policies regarding how we cover CBD and cannabis as a publisher.
Footnotes
References
https://www.forbes.com/health/body/keoni-cbd-gummies-review/