Josie Powell | June 9, 2023
From preschoolers to teens, kids of all ages can find something to love in these movies and TV shows featuring LGBTQ+ characters and storylines.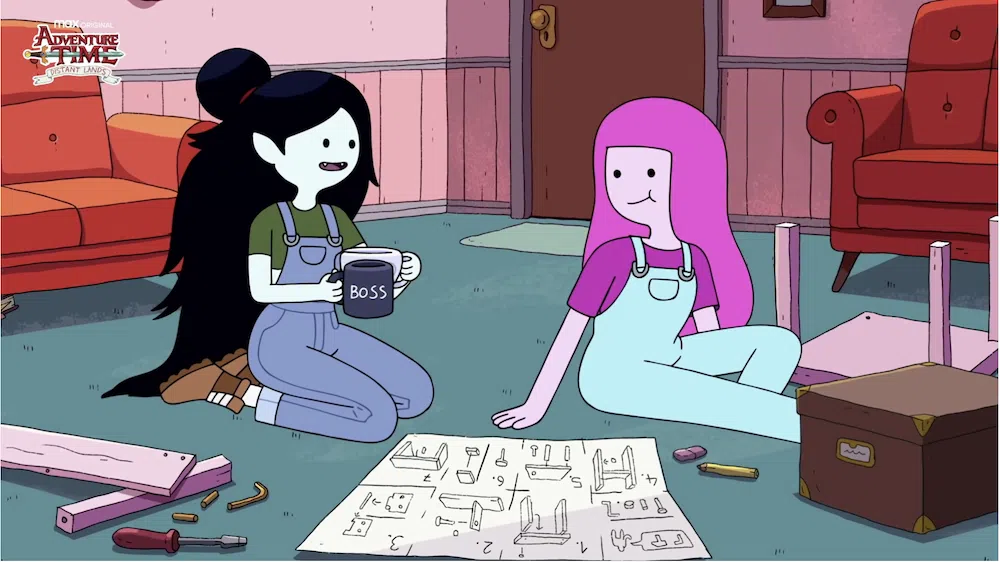 Positive LGBTQ+ representation can be hard to find in media, especially when it comes to children's entertainment. But it's important for children to see many diverse communities represented in the movies and TV shows they consume.
Dr. David Berger, a board-certified pediatrician practicing in Tampa, Florida, says that children seeing themselves represented on screen "has a very big psychological impact." He explains that when children don't see this kind of representation, they may feel isolated. "That realization of 'there's somebody out there who's like me' — it helps the psyche," says Berger.
Even for children who aren't directly members of the LGBTQ+ community, seeing diverse representation is important for understanding how to show respect and understanding to LGBTQ+ people in their lives. As Berger points out, "If at least 10% of people in our country are part of the LGBTQ+ community, that means [they are] our neighbors, our uncles, our cousins, our siblings, our politicians, our leaders. So understanding other people is important."
From silly cartoons for preschoolers to stories that cover more serious topics, children of all ages can find LGBTQ+ representation in these movies and TV shows, available for streaming on a variety of platforms. Some feature main characters who are LGBTQ+ while others include brief storylines involving LGBTQ+ characters. Either way, watching these movies and TV shows with children will open up opportunities to talk with them about LGBTQ+ identities and issues impacting the community.  
1. 'Strange World' 
Fifteen-year-old Ethan goes on an exciting journey with his family to discover why their beloved hometown's energy source is suddenly dying. While it's not the central focus of the movie, Ethan has a crush on another boy from his town, which he talks openly about in front of his parents. 
2. 'The Owl House' 
Luz, a teenage human, finds herself in a new, witchy world after accidentally going through a magic portal. In season 2, Luz realizes she has a crush on Amity, a lesbian witch. 
3. 'Adventure Time: Distant Lands' 
Episode 2 of this 4-part follow-up to the classic Cartoon Network show, "Adventure Time," focuses on Marceline and Princess Bubblegum, who became a couple at the end of the original series.
4. 'The Mitchells vs The Machines' 
The Mitchell family's road trip is interrupted by a robot apocalypse that forces the Mitchells to step up and save the world. Katie, the teenage daughter in the family, is openly LGBT. 
5. 'Rugrats' (2021) 
This reboot of the classic 90s cartoon follows the same babies on new adventures, and also confirms that Phil and Lil's mom, Bette Deville, is a lesbian. 
6. 'Dead End: Paranormal Park' 
This animated series takes place at a haunted theme park, where two teens and their talking pug friend battle demons to save the universe. The show features multiple LGBTQ+ characters, including the two main characters — Barney, who is gay and trans, and Norma, who is pansexual. 
7. 'Steven Universe' 
Steven Universe is a cult-classic among children and adults. It tells the story of Steven, a 13-year-old who tags along with Crystal Gems, a team tasked with being the magical guardians of humanity. At the end of season 5, Ruby and Sapphire, two of the Crystal Gems, get married. 
8. 'My Little Pony: Friendship Is Magic' 
Perfect for young children who are unicorn-obsessed, this cute cartoon features ponies in the land of Equestria learning lessons about friendship and kindness. One of the main ponies, Scootaloo, is raised by her aunts, Aunt Holiday and Auntie Lofty, who are a couple. 
9. 'She-Ra and the Princesses of Power' 
This modern reboot of the original She-Ra series from the 1980s follows Soldier Adora as she finds a magic sword and becomes the legend that is She-Ra. The high-fantasy animated series chronicles She-Ra's efforts to rebel against the evil Horde, all while including several LGTBQ+ characters and storylines. 
10. 'Lightyear' 
This "Toy Story" spinoff tells the origin story of the iconic character Buzz Lightyear. Buzz's commander, Alisha Hawthorne, is married to a woman. 
11. 'Chip and Potato' 
Aimed for children under age 7, this show follows a pug named Chip as she starts kindergarten with her secret mouse friend, Potato. Season 2 introduces a family of Zebras with two dads, Roy and Ray Razzle. 
12. 'Generation Drag' 
This 2022 reality series showcases the lives of teen and tween drag artists who are preparing for their very own drag ball. This show includes more serious conversations involving gender identity, depression and anxiety, and fear of targeted violence, so parents should be prepared to engage in deeper conversations with their children while watching this series. It also features families trying their best to understand and accept their LGBTQ+ children, giving great examples of how parents can have these types of conversations. 
13. 'Ridley Jones' 
Ridley Jones lives in a museum where the animal exhibits come alive at night, so she has many adventures with her animal friends. In season 3, her bison friend, Fred, comes out as nonbinary. 
14. 'The Bravest Knight' 
Based on the children's book "The Bravest Knight Who Ever Lived," main character Sir Cedric tells his 10-year-old daughter, Nia, the story of how he became a knight as she trains to become a knight. It prominently features Sir Cedric's husband and Nia's other dad, Prince Andrew. 
15. 'Andi Mack' 
This coming-of-age story is about Andi, a 13-year-old balancing the struggles of growing up with ongoing family drama. In the season 3 finale, Andi's friend Cyrus comes out as gay. 
16. 'Doc McStuffins' 
If you have a kid in your life, you probably already know Doc McStuffins. The Season 4 episode "The Emergency Plan" features a two-mom family voiced by openly gay actors Wanda Sykes and Portia de Rossi.